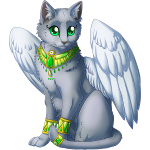 The Temple Cat who runs the Silver Shop sells horse eggs for silver. These eggs cannot be found anywhere else outside of breeding or holiday events, and the contents of the shop can change without warning, so it is wise to purchase them while you can. If a horse has multiple poses, it is random which one you will get.
The Silver Shop also may occasionally sell horses from ongoing events.
A full list of Silver Shop-exclusive colors, including those that are currently out of rotation, may be found here.
Current Shop Contents
Edit
Boredom
15,000 Silver

Boredom
15,000 Silver

Brokenhearted
12,000 Silver

Brokenhearted
12,000 Silver

Confusion
3,000 Silver

Confusion
3,000 Silver

Confusion
3,000 Silver

Confusion
3,000 Silver

Confusion
3,000 Silver

Confusion
3,000 Silver

Confusion
3,000 Silver

Confusion
3,000 Silver

Confusion
3,000 Silver

Confusion
3,000 Silver

Confusion
3,000 Silver

Confusion
3,000 Silver

Confusion
3,000 Silver

Confusion
3,000 Silver

Confusion
3,000 Silver

Confusion
3,000 Silver

Joy
18,000 Silver

Joy
18,000 Silver

Madness
10,000 Silver

Melancholy
10,000 Silver

Melancholy
10,000 Silver

Melancholy
10,000 Silver

Sorrow
14,000 Silver

Sorrow
14,000 Silver